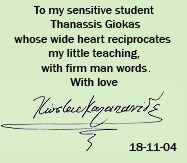 The students honor their tutor
To Thanassis Giokas
A life of asking why.
Time is valuable though,
thousands voices.
His task to share,
sort his students' thoughts.
Knowledge here and there,
joy against complaints
among severity and love
the red blossom of spree.
His time passes
and he is given tribune
and wastes his breath.
"Thank you for still granting me
the joy of loving you", he said and sat,
foul of awareness and thrill.
Kostas Kalapanidas
ANAIRESI KALOLOGIAS
ATHENS 2004